EFNOTE PRO is a state-of-the-art electronic drum system that offers superior sound quality and consistent performance. Connect up to 12 XLR outputs to the stage box and digitize your drum riser. The EFNOTE PRO module comes loaded with the highest quality drum sounds available on the market. Kits are available in many different configurations, and easily customizable. With EFNOTE PRO, you can create the perfect kit, achieve perfect isolation, and enjoy crisp and clear drum sounds without any interference.
Contains Legendary Drums Sets
Diverse Cymbal Collection
Instrument Expansion
High-Powered Headphone Amp
Innovative Two-Piece Design
Foot Light for Your Feet
Can support up to 7 Shells and 8 Cymbals
ELISE Sensing Processor 2.0
Full Drum Pad Lineup
12-ch Buses to the Console
XLR Inputs from the Console
USB 12-ch Multi-Track Recording
Bluetooth
The 700 Standard set includes 4 shells and 3 cymbals
14″ High hats Cymbals
16″ Crash Cymbal
20″ Ride Cymbal
14″ Snare
11″ Tom
15″ Floor Tom
20″ Kick Drum
Supercharge the Stage
EFNOTE PRO is designed to digitize your drum riser, then elevate your stage. By simply connecting up to 12 XLR outputs to your stage snake or soundboard, you will be receiving the highest quality drum samples on the market with absolute consistency and perfect isolation.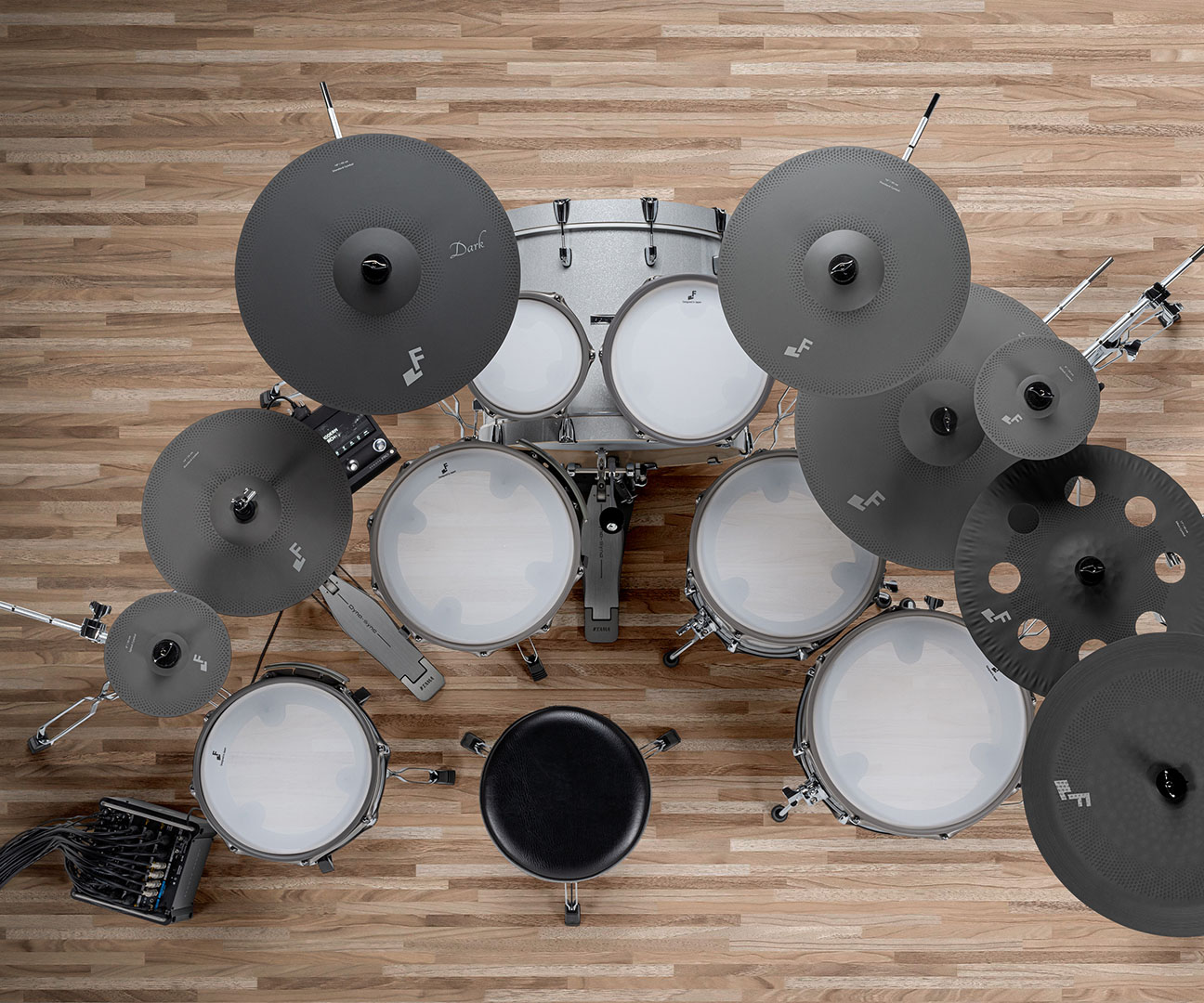 Flexibility for All Music
EFNOTE PRO supports 7 shells and 8 cymbals. All pads are individually wired, so players can adapt to any musical environment. All sound settings can be quickly saved and loaded, for multiple players and Set Lists at any time. With a full 12 CH of multitrack USB Audio and 16 CH USB MIDI simultaneously, allowing a drummer, producer or mixer access to quick editing/ replacement, in order to meet Artist's budget requirements.
Design
Innovative Two-Piece Design
The two-piece sound module provides both operability and expandability required by professionals
Low-profile and compact control surface with touch-screen full-color LCD
Floor-standing base unit with robust enclosure and reliable cable connections
Foot Light for Your Feet
A foot light is equipped on the bottom of the surface controller to help setting up
Can be turned on and off as needed
Contains Legendary Drums Sets
The delicate resonance of aged shells are newly captured, recorded by EFNOTE
Raw and organic, NOT synthetic and electronic
Includes maple, birch, acrylic, steel, aluminum, brass, titanium shells, even a towel-muted sound
Diverse Cymbal Collection
Our mint selection, from bright and crisp modern sounds to dark and soft vintage sounds
Contains modern trash/effect/stacked cymbal sounds
Instrument Expansion
New sounds (drum sounds only) will be published on the Instrument Library web page and will be loadable
High-Powered Headphone Amp
1x 1/4″ jack + 1x 1/8″ jack for headphones (can be used simultaneously)
Dedicated 2x headphone amp circuit for enough loudness
High quality DAC and audio circuit
7 Shells and 8 Cymbals
Build a custom kit for any stage
5x 2-zone input for toms
6x 3-zone, 2x 2-zone input for cymbals
Traditional individual trigger connections (TRS), for professional reliability
ELISE™ Sensing Processor 2.0
We've evolved, delivering improved sensitivity for capturing your most delicate touch
The new algorithm for even more natural dynamics
Full Drum Pad Lineup
Birch wood shells and 2-ply mesh drum heads
Multi-sensor for hot-spotless and high-resolution sounding
20" and 16" kick drums
14" and 12" snare drums
8", 10", 11" rack toms
12", 13", 15" floor toms
"World's First" Cymbal Pads
Tru-Motion™ 14" hi-hat cymbal
8" to 20" full size cymbal lineup, the first of their kind
New 18" China cymbal and 17" effect cymbal with stackable/suspendable STAK™ mount
12-ch Buses to the Console
12-ch buses, and 12x XLR balanced bus output
Dedicated bus compression for Bus 1 to 6
HPF and 2-band EQs for Bus 1 to 12
Stereo-Link for two adjacent buses
Ground lift switches
XLR Inputs from the Console
2-ch Monitor In (XLR balanced) for monitoring return from the console
2-ch Line In (TS unbalanced) for an additional sampling/percussion pad
Ground lift switch for Monitor In
USB 12-ch Multi-Track Recording
Simultaneous recording of 12-ch multi-track Audio and multi-track MIDI is available
Confirmed with major DAWs
5-pin DIN MIDI Out
Bluetooth®
Wireless connection with a smartphone or tablet for playing along
(EFNOTE app will be available)